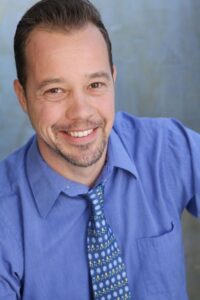 Hello. I'm glad you're here.
For one thing, not many people would be brave enough to click on a student intern's page. But on my end, I would welcome the opportunity to walk with you through whatever you're going through.
Pursuing a career in counseling is the result of a lot of my own personal work. It also represents the merging of my varied and otherwise seemingly unrelated life experiences. I grew up in San Diego but spent most of my adult life in Los Angeles. Prior to starting my MAC at Covenant Theological Seminary, my education background was in film, TV, and animation as well as acting. My work experience includes teaching technology at an elementary school in West LA, teaching English conversation at a church in Osaka, Japan, and working in procurement in the video game industry.
I'm passionate about counseling because it ties so many components of these together: relationship, story, learning, growth, and development. In my own journey, it was in relationship with other trusted individuals with whom I could safely share my story that I began to really experience new channels of growth and new ways of being in the world. That's not to say my problems have all somehow been fixed, but I have new ways of relating to them–and I don't have to do it alone. My hope is to be a part of bringing that experience to others.
I aim to work with clients of all ages, children, adolescents, and adults. Having experienced a lot of growth and goodness from men's groups, helping men with the issues we face is of particular interest for me. Also very close to my heart are sexual minorities. I know firsthand the challenges of navigating that part of life, especially where it intersects with faith. I desire to be a safe space for anyone whose journey touches on that part of life (LGBT+ and SSA).
When I'm not working, I'm likely spending time with friends, caring for trees, or being entertained (or slept on) by my two cats, Shiro and Pidge. (Bonus points if you know the reference!) (Reader thinks to self, "I didn't know we were getting points for any of this…")
If you are considering counseling, you can call 314-887-7706.