Even without knowing you, I believe yours is a story worth being heard. I get that it can be risky to consider counseling, but I'm glad you're here.
As a student counselor, I am passionate about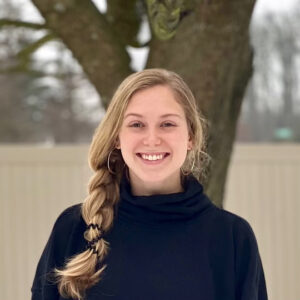 engaging others with gentleness and respect. It is an honor to join people in their pain, longings, joys, and more. If you came to sit with me, it is my hope that you would feel welcomed, known, unashamed, and free to take up space.
 The idea of being "made for more" has been meaningful in my own life. It gave me permission to enter into loss, longing, and hope. I have been convinced that wreckage and harm do not have the last word.
 Some other things about me – I'm from Michigan, so you might expect me to be comfortable being cold, but really, I have a high value on being cozy and warm. You can often find me cuddling with my dog and a blanket – even in the St. Louis summer!
 I also enjoy meandering around new neighborhoods with my husband, ice cream with lots of mix-ins, and spontaneous dance parties.
 I would be honored to walk with you as you dare to long for more.
If you are considering counseling, you can call 314.887.7706.