My name is Cora Taylor and I am here to meet you where you are, and to walk with you in this journey of self-discovery and healing.
I have over ten years of experience as a counselor working with children, adolescents and adults.  In my professional life, I have worked in a variety of settings including psychiatric hospitals, residential treatment facilities, private practice and nonprofits.  I have experience helping those who have or are experiencing trauma, depression, anxiety, anger, and brokenness within the family system.  I believe that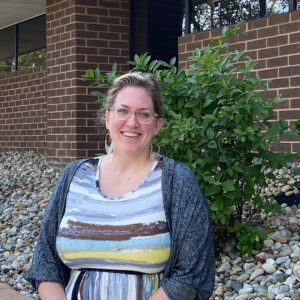 mindfulness and connection are critical for all of us as we move through life.
In addition to working with cognitive behavioral strategies, I like to incorporate play and art therapy techniques in my work.  We all need play and art in our lives to express ourselves, no matter our age.
I am a proud adoptive mother, with both professional and personal experience working with foster care and adoption.  I believe that our families make up critical parts of ourselves, no matter how that family was stitched together. I grew up in University City and thrived in environments full of diversity of all kinds.  Racial reconciliation and authenticity are important to me.
When you come to CrossRoads, I hope to offer you a safe place where you feel heard and supported.  My hope is to walk through this time together so that you can let go of what has burdened you in order to move forward to become more of who God has made you to be.
If you are considering counseling, you can call 314.887.7706 or email me directly at corataylor@stl-ccc.org.