Gina Birkemeier, MAC, LPC
I come to my counseling practice with a specific mission: I want to help people find the freedom to be who they were created to be. Oftentimes, that requires the courage to heal our hearts and minds, slay shame, and break unhealthy cycles.  I'm honored to walk beside anyone who wants to do this life-changing work.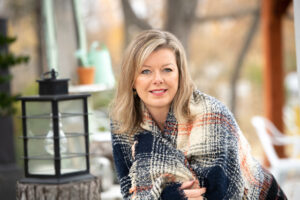 I entered the counseling field in 2003 when I began working in pastoral and lay counseling roles. That work motivated me to complete a master's degree in psychology and theology from Covenant Theological Seminary and a certificate in Advanced Counseling for Trauma from the Allender Center. I also am certified in EMDR, an evidence-based therapy that helps people heal from traumas, even those without physical memories attached.
Those things are important and speak to what I'm licensed to do. But I'd like to share more about what I believe and who I am.
I believe we can achieve growth and healing when we understand that physical, emotional, mental, and spiritual well-being all work together. I believe in God and believe it's beneficial to offer my background and education in fitness and nutrition, alongside my faith and clinical training, to deliver a holistic and collaborative approach to therapy.
I am a survivor of a false narrative and the circumstances that helped create it. My passion for the work I am called to do with clients was born out of my own journey to healing from the realities of trauma, neglect, and abuse.  I understand how our early life experiences can lead us to believe a story about ourselves that has nothing to do with the story we have been created to live. For me, it took a lot of therapy and a lot of Jesus before I could recognize this and heal. It is my greatest privilege to help others find that healing too.
My goal is to shine a bright light on the idea that the story we tell ourselves most often is the one that becomes most true. In fact, I spend part of my time writing and teaching about topics related to this idea. I also have published a book and have a second book forthcoming on generational trauma.
If you would like to shine this light in your life so you can heal and embrace your wholehearted identity as a daughter or son of the King, I would be honored to link arms with you and go at the pace you need to achieve your goals.
You can reach me at 314.469.5522, extension 24
You can find the paperwork for your initial visit here.
License # 2015015231