My practice of and love for counseling is closely connected to my passion for people, my life circumstances rooted in multiethnic contexts, and my personal wrestling with how to live with hope in a world filled with both beauty and brokenness. For the past 20 years, I have walked with individuals and families as we have sought hope and healing together. Professionally, through my work in individual therapy, school based and community counseling, and non-profit ministry focussed on single moms and pregnant or parenting teens, I have had many opportunities to grow and stretch as a trusted confidant, counselor, mentor and friend. I consider it a privilege to walk with clients through life challenges.
Personally, I have been married for 20 years to my husband Drew who is a pastor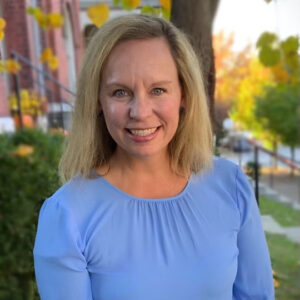 and professor. We have five school aged children and a rambunctious pandemic pup. We are an interracial family that has grown through birth and adoption. Our faith is the foundation of our lives and the source of our greatest hope. We have enjoyed living in a diversity of places (Boston, Nashville, and Charlotte, to name a few) and with a diversity of people. Together, we enjoy time with friends and family, listening to music, cooking, and exploring new places. We moved to St. Louis recently from North Carolina and are enjoying this new place we call home.
As you walk into counseling with me, I trust you will find a non-judgmental and safe space to share your unique story, challenges, fears and hopes. My counseling practice is grounded in the belief that we are complicated but yet whole humans. We are body, mind, and spirit. We are shaped by thoughts, emotions, feelings, experiences, and behaviors. We hurt others and have been hurt; we are impacted by others and ourselves. I also believe that however complicated, we are also whole, and are able to heal. Together, we will shine light on areas that are important for your healing and growth, and take steps towards your future.
Whoever you may be, I look forward to welcoming you. I have experience and a special heart for: family counseling; couples counseling; parenting; adolescents, teens and young adults; adoption; ministry families; crisis pregnancies; and women's issues. I look forward to meeting you!
If you are considering counseling, you can call 314.887.7706 or email me directly at megmartin@stl-ccc.org.
Supervised by Kathy Karigan, PhD, LPC (License #2013023670)