Flourishing Families Initiative
The University City community contains the dividing line between North and South St.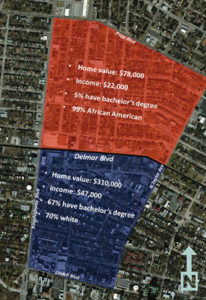 Louis, known as The Delmar Divide.  This name was popularized by the BBC documentary, The Delmar Divide, released in 2012.  The disparity between north and south Delmar is great, with poverty and lack of education having a negative impact on families to the north.
With this in mind, CrossRoads is launching the Flourishing Families Initiative, focusing on serving under-resourced families in the University City community and the West End Neighborhood, with a special focus on Pershing Elementary School.  The mission of this initiative is to transform individuals, families, and communities so that self-protection gives way to love; secure attachment creates people who grow, give and flourish; and healing unlocks change for generations to come.
CrossRoads has been building collaborative relationships for this project in the University City community and West End Neighborhood since 2016. With trusted community organizations at our side and counselors recruited who reflect both the community and cultural experience of our client base, we are already receiving referrals from those who are excited to connect families with the care we can offer.
The Flourishing Families initiative will:
Provide faith-informed, evidence-based, clinically excellent counseling to community residents
Form a parent support group, designed by and for community participants that empowers parents to foster secure attachment throughout the lifespan.
Offer counseling in

 

the heart of the Delmar Divide
Hire skilled African American counselors
Invest in their training to provide EMDR and attachment-based therapies
Ensure clients are seen by someone who shares their cultural experiences
Encourage more people of color to envision themselves as counselors
Increase the number of faith-informed, clinically excellent minority counselors
Our goal is to raise $20,000 to underwrite this initiative. If you would like to learn more, please email us at questions@stl-ccc.org. If you'd like to support our work financially, you can give here or mail a check to1023 Executive Parkway Drive, Ste.10, St. Louis, MO  63141 with FF in the memo line.