Lindsey De Jong, MAC, LPC
Hello! My name is Lindsey De Jong and I am delighted to join the CrossRoads staff.
Starting with my undergrad degree in English literature, I have loved pursuing story, on the page and in the lives of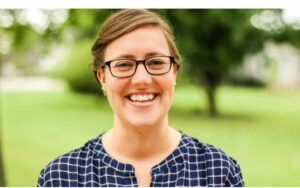 people around me.  I have learned increasingly through my counseling work just how important understanding our stories is to human flourishing.  "If we don't tell our stories, our stories will tell us. Whether we revisit the past or not, who we are today is profoundly shaped by the events of our lives and our responses to those events. Our stories impact us either unconsciously or consciously. It's up to us to decide whether we'll be passive recipients or active agents in the shaping of our lives." (Dan Allendar, To Be Told).  I believe this story work is most effectively done in relationship and I am eager to partner with you in your flourishing in a safe and brave space.
I hold an MA in Counseling and I have practiced as a therapist for 10 years with adult individuals in the areas of relationship distress, life transition, anxiety, and significant emotional dysregulation. I am also trained in Dialectical Behavior Therapy and my heart is to understand my client's story while teaching skills to cultivate wholeness and healing.
I also currently supervise graduate-level Practicum students in the MA in Counseling program at Covenant Theological Seminary and I am approved as a licensure supervisor in the state of Missouri. I enjoy reading, collecting all things vintage, and wandering my tree-lined neighborhood
If you are considering counseling, you can call 314.887.7706 or email me directly at lindseydejong@stl-ccc.org.
License #2013004021